PRGR Sweep Fairway Wood Original Graphite Shaft
Please be informed that manufacturer's warranty is non-eligible for overseas customers.
Features of this product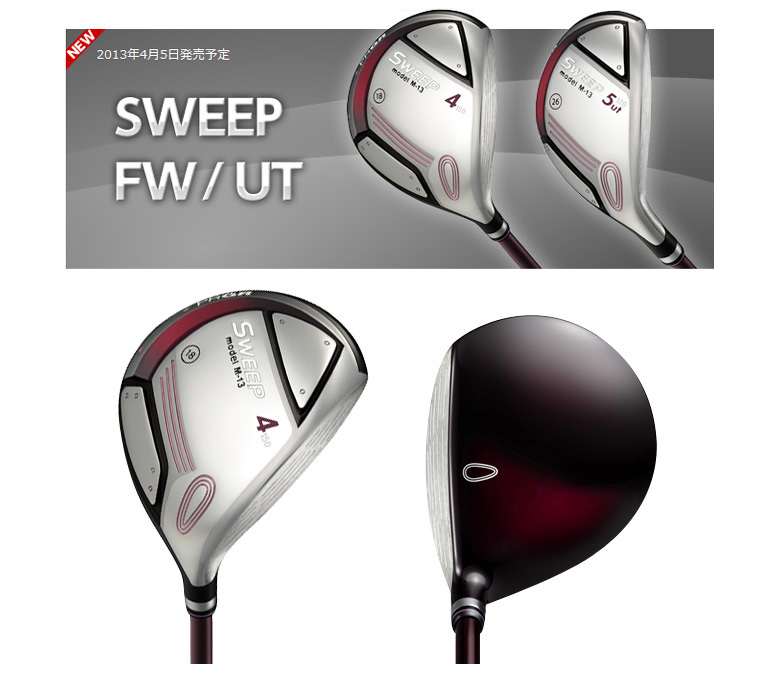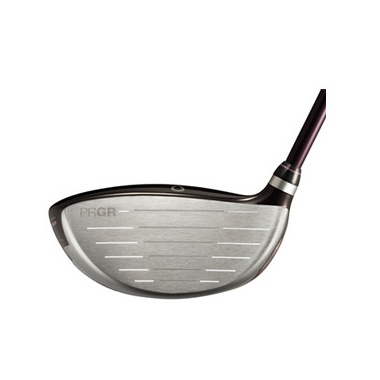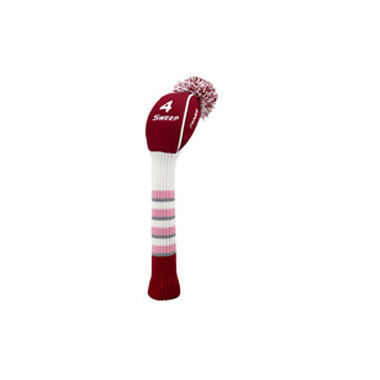 ▲ M-30 carbon shaft

▲ Cord grip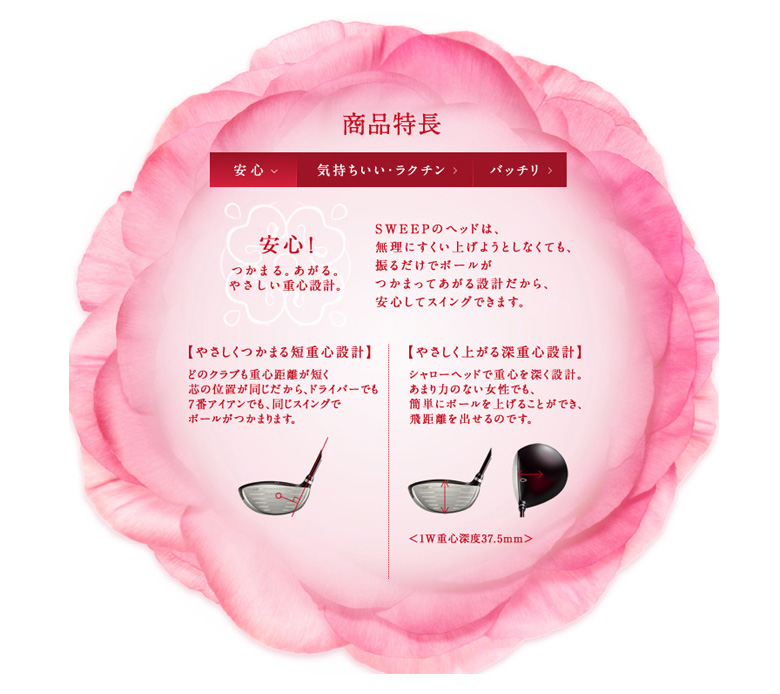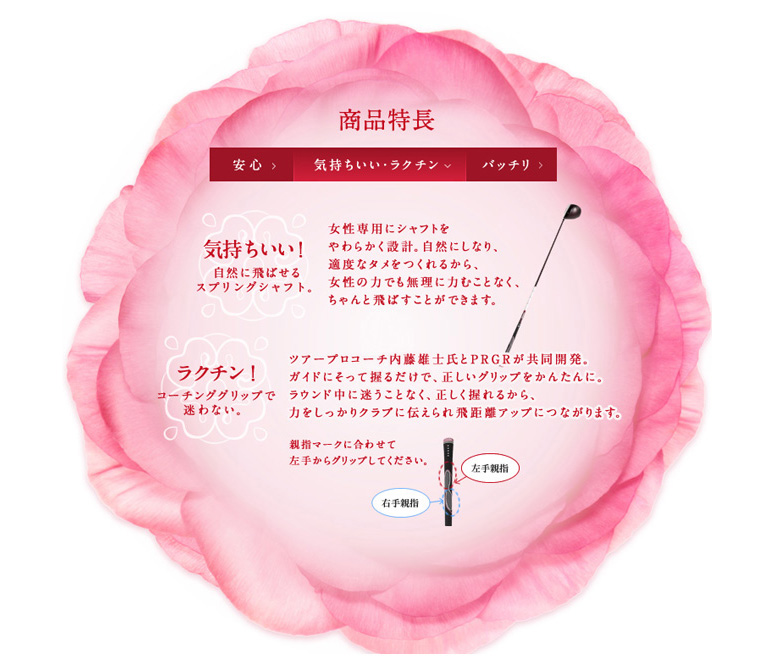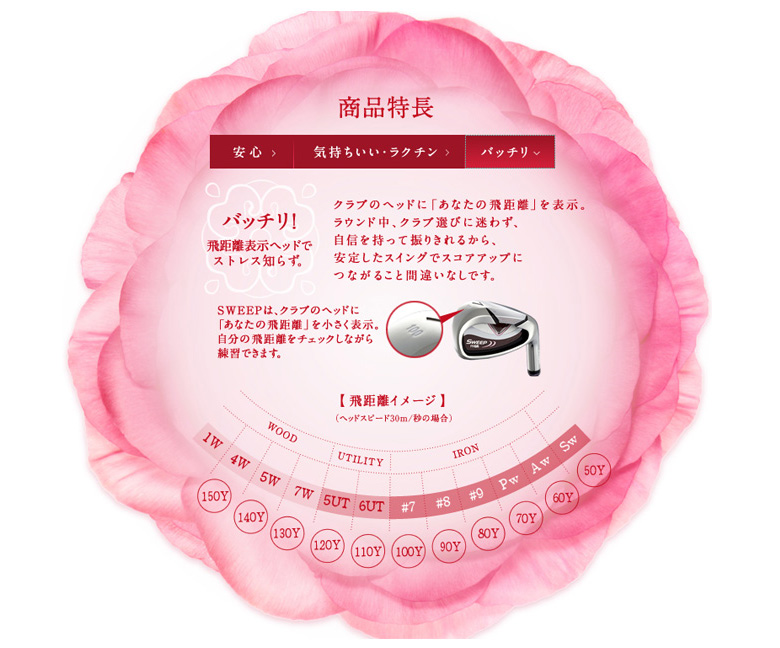 Product features: Product features:
relief!
Grab. Get nervous. Easy center of gravity design.
The SWEEP head is designed so that the ball can be caught and lifted just by shaking it without trying to scoop it up, so you can swing with confidence.
[Short center of gravity design that can be easily grasped]
All clubs have a short center of gravity and the same core position, so both drivers and 7-irons can catch the ball with the same swing.
[Deep center of gravity design that rises gently]
The shallow head is designed to deepen the center of gravity.
Even a weak woman can easily raise the ball and increase the flight distance.
It feels good and easy
It feels good!
A spring shaft that can fly naturally.
The shaft is softly designed exclusively for women. Because it becomes natural and you can make a proper amount of tame
Even with the power of a female, you can fly it properly without forcing it.
Rakuchin
Don't get lost with the coaching grip.
Co-developed by Tour Pro Coach Yuji Naito and PRGR.
Simply grasp along the guide to get the correct grip easily. Since you can hold it correctly without getting lost during the round, you can firmly convey the power to the club and increase the flight distance.
Grip from your left hand according to the thumb mark.
Perfect
Perfect!
The flight distance display head is stress-free.
"Your flight distance" is displayed on the head of the club.
During the round, you can swing with confidence without hesitation in choosing a club, so there is no doubt that you will be able to improve your score with a stable swing.
SWEEP displays "your flight distance" small on the head of the club. You can practice while checking your flight distance.
spec
Head material (manufacturing method)
Face / Body: Stainless steel (SUS630) / Face: Rolled, Body: Precision casting
Finish
――――
Count
#Four
#Five
# 7
Loft angle (°)
18.0
21.0
24.0
Rye angle (°)
60.0
60.5
Face angle (°)
1.0 1.0
Club length (inch)
41.0
40.25
39.5
Club weight (g)
281
386
392
Head volume (cc)
154
150
143
Shaft name
M-30 carbon
Shaft hardness
L
balance
B-8.0
Shaft weight (g)
45.0
43.5
42.5
torque
4.5 4.5
Kick point (condition)
At hand
grip
Weight: 33.0, Diameter: 58, Code: None
Release date / accessories
April 2013 / Original head cover
| | |
| --- | --- |
| Staff comments | It is a reassuring weapon that can be easily swung out and raised while having a feminine image. |